Brevet controls
The route name, start date, start time are all required before control times can be calculated. The drop down menus below have the names of all of Randonneurs Ontario brevet routes. Choose the name of the route, then select the start date and start time. If a control is missing it has to be entered from RWGPS, but if the control has an entry but Location is not suitable the text can be edited. With no rider entries Print brevet card" will produce 2 cards with blanks for the rider names.
The route name and the cue locations can be edited as needed.
Flèche Controls
Flèche Ontario rules In Ride with GPS, prepare the route controls using the same guidelines as for a brevet card. make sure Visibility is Public!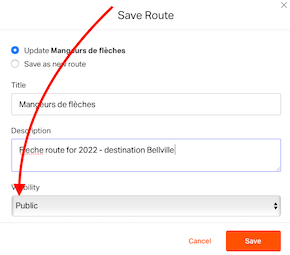 Link - share - your team's planned route as shown below.