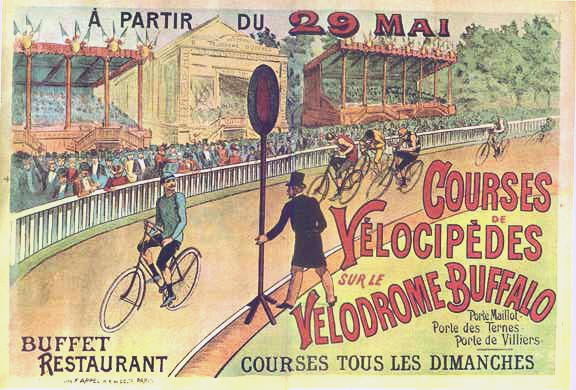 A History of Randonneurs Mondiaux . The First Twenty Years of Les Randonneurs Mondiaux, original article published in "L'Audax Club Parisien presente 15eme Paris Brest Paris" (August 18-22, 2003). Reproduced with permission of ACP and the author, Robert Lepertel, translated by Gerry Pareja, Vancouver, Canada.
Brestward Ho! . This is Jock Wadley's account of his participation in the 1971 edition of Paris-Brest-Paris, as edited by Eric Ferguson of the BC Randonneurs. Wadley's account sparked interest in PBP and randonneuring in the English-speaking world. Wadley has a connection with the formation of Randonneurs Ontario (see Martin Heath's article).
The Origins of Toronto Randonneurs, by Martin Heath, an article which first appeared in the club newsletter in 1997.
An Interview with Michael Barry Sr. , by Grant Peterson, reprinted from the Rivendell Reader No. 28, with permission from Grant Peterson and Rivendell Bicycles, Walnut Creek, California
Henri Desgrange and the Origins of Audax Cycling , translated from the L'Union des Audax Francais Web site by Ken Dobb, chronicles the founding by Degrange of the French Audax movement, "a philosophy of sport for the sake of participation rather competition, and for the sake of physical well-being."
Henri Desgrange and L'Equipe , translated from an article by Jeremie Arbona on the L'Equipe.fr Web site by Ken Dobb, provides a context for the connection of randonneuring to other French cycling institutions through Henri Desgrange and to the foundation of Paris-Brest-Paris.
Pierre Giffard: A Short Note , by Ken Dobb, recounts the exploits of Pierre Giffard, the great rival of Henri Desgrange, and the founder and first organiser of Paris-Brest-Paris.
A History of PBP as a Professional Race covers the history of PBP as a professional, translated from a French website by Ken Dobb.
A History of PBP , by Robert Lepertel, translated by Johnny Bertrand. This article emphasizes both the racing and touring roots of the Paris-Brest-Paris event.
A History of the Audax Club Parisien, translated from the Audax Club Parisien Web site by Ken Dobb, explains how the ACP came to be the central organization for randonneuring enthusiasts world-wide.